Caregiver Burnout And 3 Ways Families Can Help Reduce It
Caregiver Burnout, we all know it's real.
An investigation into the state of long-term care in Ontario (Canada) revealed that caregiver burnout starts before they even get a job. That is to say, close to % of personal support worker students quit before completing the program. Furthermore, approx. 40% of those who do graduate decide to pursue something else right after graduation. But, as the investigation concluded mid-2020, the onset of COVID-19 created government incentives for enrolment.
Yet, that did not solve the immediate problem. COVID meant putting the homes in isolation or lockdown. Which, in turn, meant no volunteers, no agency workers in most cases, and most importantly, no family. Understandably, this put a lot of pressure on the homes. On the other hand, families felt powerless and grew more demanding of the home; all the while, the residents suffered in lonely isolation. Isolation has a solution we explore here.
Granted, COVID is a new problem. A problem that exacerbated old problems, like staff shortage and burnout, the negative, unintentional impact family can have on care and the impacts of isolation. All this is currently pushing the system to its limits, often having it fail tragically. Yet, how can we tackle some of the old problems? Luckily we have both old and new solutions, some of which unfortunately are not well known.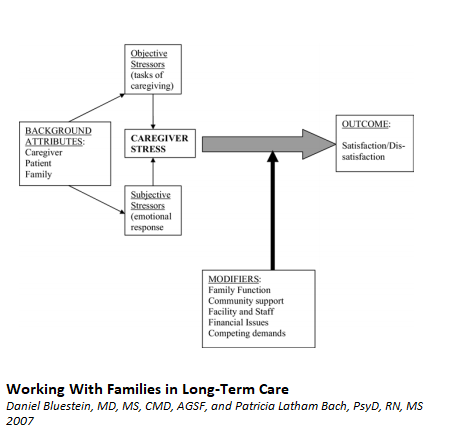 Customer Service
This may come as a surprise, but in an attempt to provide person-centered care, caregivers devote 99% of their attention to the resident and only 1% to the family.  Arguably, you may say that they should be giving residents 110% of their attention, and I understand where you're coming from. But hear me out. The aim is to make everyone happy so caregivers have an easier time.
Ensuring that staff spent a bit more of their attention on families will give exponential returns in everyone's satisfaction. Yes, everyone, not just families, staff, and residents as well. And it will take you one step further in reducing caregiver burnout.
You may think that the resident is your customer, and yes, they are. They should be the focus. But families are also your client. They are also your referral, your Google/Facebook/Yelp review. And with us millennials putting our loved ones in a home retirement or ALF. And boy, do we give those reviews a serious look. A generation of people grew up not knowing a time before Google. Think about it.
Positive Feedback Loops
Study after study has shown that having a positive relationship with the family results in more supportive and more involved families. Brushing families off or flat out disregarding them results in adversarial or competitive relationships with families. These negative interactions justify many caregivers' burnout and jump ship for another home where the cycle repeats itself.
Caregivers need to volunteer feedback and information. Updating the families on the residents' goings-on is an easy, low-cost activity that can greatly improve the families' mood. The aforementioned studies point out that families suffer from feelings of guilt towards their loved ones put in care for the first few months, if not years. And it is important to show them that said loved ones are in good hands and treated with dignity.
As psychologists will tell you, we are more prone to notice the bad than the good. So it is imperative to point out the good, as the bad will not go on unnoticed. Caregivers communicating offers families a sense of security, a sense that they have made the right decision, and that you are a professional.
Use Technology
Do you know what professionals also do?  They use everything at their disposal to be masters of their craft. Everything means technology. If you want to help caregivers from burning out, caregivers need to be upgraded. COVID made this clear. A drop-in visit resulted in a rise in Video Calls. A step in the right direction. But it's still using existing, generalized technology. Technology that due to the lack of specialization results in extra work to keep a sense of normalcy. If you want to take control of caregiver time, give a good chunk of it back, and empower families, Video Calls are not the way. Video Calls have existing caregivers on stretched lines having to sit in place holding a tablet if you're unfortunate and don't have the tablet stands or something similar.
So what would a specialized solution look like? Well, shameless plug here, CareStory is one such solution. It has a feature dedicated to asynchronous video communication. It allows families and residents to interact via video but is delayed and influenced by times best suited for the caregivers. No timeslots that can run over and push back a whole day. This on top of instant access to family-provided information without having caregivers run to the nearest point of care or… uh… computer… in a nurse's office. All that running is what burns staff out.
But your EMR platform may have other integrations that allow communication with families. Be it one way or both ways. If it can be put directly in the hands of caregivers, communication would greatly improve their quality of life and the quality of care they provide.
In Conclusion, to avoid Caregiver Burnout, you should
Treat family like (future) customers.
Encourage caregivers to speak to the families and provide care updates, unprompted.
Empower families with the use of technology so that they can support caregivers from afar, as opposed to stressing them out unintentionally.
Aurelian Rus