The Power of Music for Seniors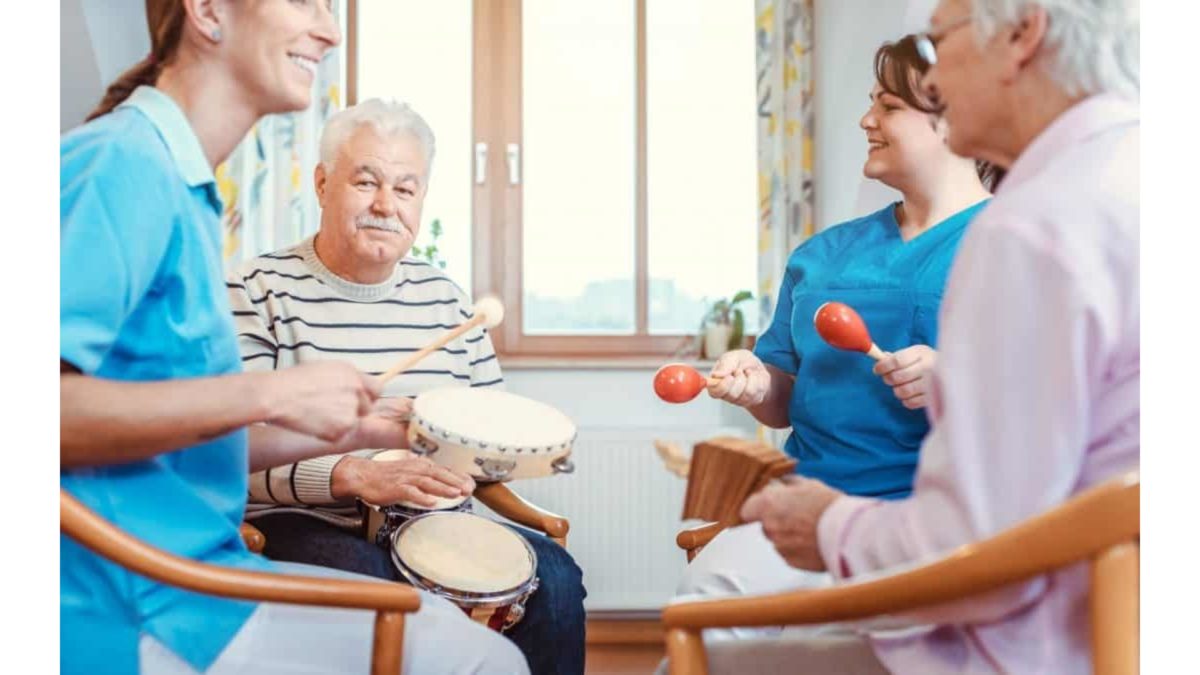 Music has become an increasingly popular therapeutic method in long-term care communities. But do you actually know the power of music? Do you know that music has a significant effect on seniors? Let's dive deep into the music world.
What is Music Therapy
According to the Canadian Association of Music Therapists, "Music therapy is a discipline in which Certified Music Therapists (MTAs) use music purposefully within therapeutic relationships to support development, health, and well-being."
Knowing this, music therapists can use music to address human needs in the following domains: cognitive, communicative, emotional, musical, physical, social, and spiritual.
Fun Facts about Music
Do you have any fun facts about music? We do.
To start, music helps seniors recall old memories. Why? Because strong emotions are often associated with music, and music can support seniors in retrieving these memories. When was the last time you listened to a song and it took you down memory lane?
Furthermore, when seniors receive one-on-one personal care, music may facilitate their cooperation with caregivers. Research at the Journal of Advanced Nursing found that listening to seniors' favourite music while receiving care may help reduce care-resistant behaviours.
Finally, music not only helps elders resist loneliness, boredom and isolation, but also alleviates feelings of sorrow and abandonment. Therefore, music can provide additional companionship, especially for seniors with dementia or sensory issues.
So get out your blue suede shoes and put on a little Elvis. Besides person-centred care and communication, music can also play a prominent role in a resident's day!
REFERENCES:
https://www.musictherapy.ca/about-camt-music-therapy/about-music-therapy/
https://musicheals.ca/music_therapy/long-term-care-music-therapy/
https://www.thehamletsatpenticton.com/benefits-of-music-therapy-for-seniors/ 
https://www.mcmasteroptimalaging.org/blog/detail/blog/2016/11/15/3-simple-ways-to-manage-challenging-behaviours-associated-with-dementia
Konno R., Kang H.S., Makimoto K. (2014). A best-evidence review of intervention studies for minimizing resistance-to-care behaviours for older adults with dementia in nursing homes. Journal of Advanced Nursing, 70(10), 2167-2180. doi: 10.1111/jan.12432
#FACTUALFRIDAY, Fun Facts are FUN in the Long-Term Care and Hospice Industry
Every Friday, CareStory will present fun facts from the long-term care and hospice industry.
CareStory is a storyteller.
We empower senior care communities by engaging caregivers, residents & their families through the art of storytelling.
We care with Empathy, and we engage families to empower caregivers.
If you want to learn more about us, please check us out!
You can also follow us on LinkedIn!
Yvonne Zhang